01 Feb

Learning to be Kept

At the beginning of each year I like to choose a word to explore in Scripture and immerse myself in it for 365 days. Figuring out a word is harder some years than it is others and so you wait, wait for the Lord to reveal one. This year, it came in a prayer. A desperate cry for the Lord to be near.

This past year was filled with more change than I'd like to experience and I looked towards 2018 and realized it would be filled with even more change. The inevitable change that at times seems so overwhelming and you're just grasping for something that won't change in six months. The kind of change that drives you into the arms of the One who never changes and your soul cries out, "Oh Lord, keep me!"

And just like that, I got my word. I realized I cried out something I didn't even fully understand. What does it actually mean for the Lord to keep me? What does it mean to be "kept" by Him? So, 2018 is my year of learning to be kept.

As I began studying the Scriptures, I came across Jesus' prayer for His disciples before He would go to the Cross.  In John 17:9-12, Jesus says,

"I am praying for them. I am not praying for the world but for those whom you have given me, for they are yours. All mine are yours, and yours are mine, and I am glorified in them. And I am no longer in the world, but they are in the world, and I am coming to you. Holy Father, keep them in your name, which you have given me, that they may be one, even as we are one. While I was with them, I kept them in your name, which you have given me. I have guarded them, and not one of them has been lost except the son of destruction, that the Scripture might be fulfilled."

Wow, my mind was blown. Jesus prayed to the Father asking him to keep the disciples after he was gone. He says that he kept them and guarded them while on earth. Several verses later, Jesus asks the Father to keep them from the evil one (v. 15). If Jesus prayed this, how much more should we pray to the Father asking Him to keep us?  

We see all throughout the Psalms this idea of being kept, guarded, and preserved:

"Because you have made the LORD your dwelling place—the Most High, who is my refuge—no evil shall be allowed to befall you, no plague come near your tent. For He will command his angels concerning you to guard you in all your ways."

Psalm 91:9-11.

"Keep me as the apple of Your eye; hide me under the shadow of Your wings."

Psalm 17:8

"Preserve me, O God, for in you I take refuge."

Psalm 16:1

"The LORD is your keeper; the LORD is your shade on your right hand."

Psalm 121:5

"The LORD will keep you from all evil; he will keep your life. The LORD will keep your going out and your coming in from this time forth and forevermore."

Psalm 121:7-8

The Lord never ceases to amaze me as I study his Word. He shows me more of Himself and conforms me to His image. Friends, His Word is active and alive. My prayer is that when you find yourself tossed about by the waves of life, you would throw yourself into the truths of who He is: our keeper, refuge, dwelling place, guard, and preserver.

Lord, would you keep us close. Keep us close to your heart. When circumstances are overwhelming, our hearts begin to wander, or the enemy is at the door, keep us close. Over the course of this year, would you take me deeper with you and teach me what it means for you to be my keeper and dwelling place. Lord to do this, I know that means that I have to lay some things down and let some things go. Would you give me strength to be kept by you.

As you think about this year:
What is your word for the year?

What is one characteristic of the Lord that you could study in the Scriptures over the course of this year?

What spiritual discipline (prayer, studying Scripture, etc.) do you want to grow in this year?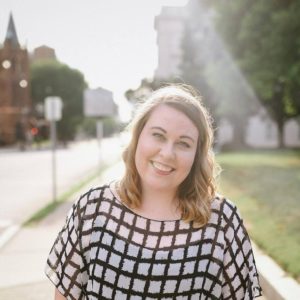 Kaycee Lookingbill will be graduating in May 2018 from Southeastern Baptist Theological Seminary with a Master's in Ministry to Women. She is a Generation LINK resident in Raleigh, NC, at Open Door Church where she serves in women's discipleship and college ministry. She has also recently come on as the Financial Assistant at Open Door. Although she's been in NC for 2 years, she is still an Okie at heart and most days you can find her at a local coffee shop, laughing with friends, & Insta storying (@kayceelookingbill) about the awkward random things that happen in her life.