26 Jun

How God is moving in the life of a Raleigh Summer LINKer

Summer LINK Raleigh is three weeks in and we're having a blast as we get to know one another whether we are hanging out as a team in downtown Raleigh or serving Open Door and the community together. Our weeks are full with an equip night, socials, trainings, outreach, and serving in different ministry areas. I could give you a list of all that we are doing, but really wanted you to hear from one of our Summer LINKers about what he's doing and how the Lord is working in his heart. Josh Moore is a Summer LINKer from Louisiana and here is his experience so far:

Man the journey of this summer has been jam-packed so far. From learning new music to working with kids during Power Camp to even helping out with a tae kwon doe camp; it has been an eventful three weeks. My ministry area focus this summer is with worship ministry. I have led worship before this summer, but it has been nice and incredibly beneficial to have the awesome staff at Open Door pouring into me and helping me grow more as a leader. I have been learning how to more efficiently and effectively pour into those I would be leading in the band and the congregation. As a musician, it has been really fun as well because I have been taking lessons in both guitar and vocals in order to help me play and sing better. So far, one of my favorite things that I have learned has been that it is okay to not know what you want to be when you grow up. As long as I am a faithful disciple now in whatever opportunities are presented to me, the Lord will be faithful to me. That is comforting because I don't know what exactly the future holds. I am not sure if I will be in full time ministry or if I will be bi-vocational with a secular job while also leading worship. I recognize that I just need to be a faithful steward of what the Lord has given me right now and He will take care of the rest. I am looking forward to the next five weeks we have here in Raleigh. We will be leaving on Monday for Creed Camp, which is the camp we are taking the Open Door youth group to. It is going to be a blast and I am really looking forward to having the opportunity to pour into all the students coming. We also have our mission trip to New Jersey coming up. I am extremely excited for this as well because I have never been to New Jersey or that area of the country for the most part. I am looking forward to being able to serve that area and explore with the Summer LINK team. All that goes to say that this summer has most definitely been one of the best yet and I am very thankful for Open Door Church for the opportunities and lessons that they have taught me thus far. The Lord has been faithful and I can't wait to see all the awesome things that He will continue to do the rest of this summer.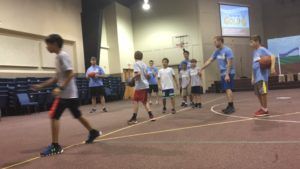 Teaching the kids some basketball skills.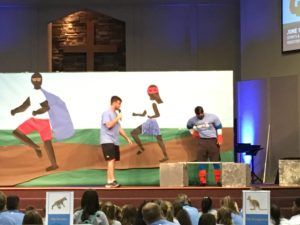 Chase Sanders and Chris Garnett, I mean Power Man, working on their fitness for the Power Olympics.
We are thankful for how the Lord is working in the lives of our Summer LINKers and through us as a team. As we continue to serve and grow this summer, pray that God would bring unity within our team despite differences of age, life, and personalities. Pray that we would be strengthened and encouraged as we serve the local church and Raleigh. Pray for those we come into contact with that don't know the love of Christ. Oh may they see that love through our team and the love we have for one another!