25 Jul

On the Home Front: Greenville

"He has told you, O man, what is good; and what does the Lord require of you but to do justice, and to love kindness, and to walk humbly with your God?" Micah 6:8

The past two summers I have been taking advantage of the breaks and traveling. From Asia to South America, I have been abroad for most of the summer. Each time, the Lord has blessed me with surreal experiences and lifelong friends. He showed me the depth of His love from people of different cultures. I slept under mosquito nets and in apartments, and wiped my tears as the plane landed onto American soil.

I wanted to travel again during my last summer in school. My feet itched to go and serve elsewhere, but the Lord really pressed on my heart to stay.

"Stay."

So I obeyed. I stayed.

And what a blessing it has been.

The Lord provided an opportunity to work with The Church at Greer Station and live from home. I even got to use my time at TCGS to do what I love—graphic design.

My weeks pretty much all looked the same. Tuesdays for staff meetings, Wednesdays for intern Bible study, Thursdays serve with an ESL class in Greer (picture of class and Greer below) and Sundays for set-up and worship.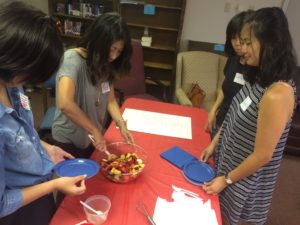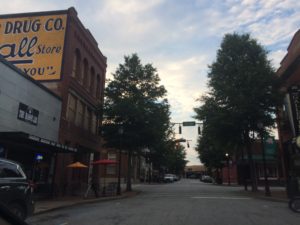 "Stay." I wondered if I had the right decision.
Maybe it's just my generation, but the thought of settling down scares me. What if I settle down and it's not the best choice? What if there's something else out there and I miss it?
What if I'm missing out?
The first day I sat down at staff meeting, I remember we had a church partner from India with us. He told us the struggles the church was having as we shared what the churches struggled with here. In the end, both groups of people, though on the opposite sides of the world struggled with one thing: pride. Pride in doing good works. Pride in culture. Pride in individualism. The pastors related in their struggle to show people service for the Lord was not about one person doing all the work, but the Church as a body with all its parts working together: humbly, justly and joyfully.
I realized right then I had forgotten that I was a part of something bigger than me choosing to stay close to home this summer. My service in Greenville, though ordinary at times, is apart of something bigger, something grander. I serve the Most High and that is not me settling because my work for Him is not in vain. I'm joining a story that began as soon as Eve touched her lips to the forbidden fruit. I'm a part of a promise made in the desert to Abraham thousands of years ago.
I was not missing out, I realized. My reward is in Heaven, not Earth. I could never "miss out" as long as I was obeying the Lord.
God had to teach me that staying close to home does not mean settling.
From community groups to lakeside baptisms to lunch after staff meetings, I was able to form connections and experience my community as I have not been able to since I started college. People from all stages of life surrounded me and encouraged me in so many ways.
I found a community when I stayed. Something I definitely would have missed if I had left home for somewhere else.
Though at times God calls you far away from home for His glory and it's a whirlwind of irreplaceable experiences and lessons, God uses us when we stay to be the light to our neighbors where we are right now, and it is good.
Victoria McNorrill
TCGS Staff Day on Lake Keowee