11 Jun

Kicking off the Summer

Hello friends!

We have been in the Boston area for four days now and the Lord has already been working through every experience. From learning how to use the transit system to finding out how cold Boston can be in June (45 degrees), to the conversations in coffee shops and the wonderful community in Redemption Hill Church, He has been present throughout it all. Our team is working mainly with Redemption Hill in the city of Medford, a suburb of Boston.

Saturday and Sunday afternoons were spent in training led by the pastors of local church plants and organized by Jon Chasteen, our area director. We were encouraged to hear about how God has brought them to Boston and what He has already done in the area. They helped us understand the spiritual situation in Boston and how to better reach out to people.

Redemption Hill is a loving family filled with people from many different backgrounds. As soon as our team walked into Medford High School, we were welcomed by church members excited to have the next Summer LINK team. The Lord has brought together such strong believers and recently provided RHC the space at Medford High to worship, allowing the church to grow and have more resources to reach out to their community.

We moved into our permanent housing for the summer on Monday at Tufts University. We are grateful for this location on the university because it means we have students we can reach in our building, and the apartments are wonderful spaces that feel like home already.

We have been praying for opportunities to connect with students on the Tufts campus while we stay here for the next eight weeks. Our first night in Tufts the fire alarm went off, but it turned out to be such a blessing. All of the other residents in our building were outside so we were able to meet many of them and hear their stories. Many are interns working in the Boston area and do not have a community for the summer, so they were very interested in having game nights or other social events. We are so thankful for this immediate chance to outreach to our neighbors and are excited to see how God uses our location on Tufts.

Tuesday was filled with a scavenger hunt to help us experience the cultural climate in Boston, as well as familiarize ourselves with the Boston area and how to navigate using subways and bus routes. We were able to speak with different people who we met along the way, learning about their stories of battling cancer or stopping going to church once they moved to Boston.

We are anxious to see who we meet while giving away coffee Wednesday morning and how God uses those interactions. We also will be helping RHC in various ways, from remodeling their new Conference Center to promoting their Soccer Nights outreach later this summer. While we are all tired, we are glad that the Lord has brought us all to Boston and has already shown us His presence here in this city.

We would love it if you joined us in prayer for:
– Students at Tufts
– People we meet on coffee giveaways
– Boldness to reach out to new people
– Redemption Hill Church
– For God to continue to reveal the good works He has already prepared!

In Christ,

Emily Cross
Summer LINK Boston

For we are His workmanship, created in Christ Jesus for good works, which God prepared beforehand, that we should walk in them.
– Ephesians 2:10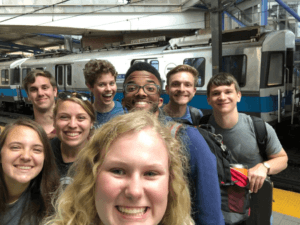 Right before our first Boston subway ride! Don't worry, we have all of our luggage to carry with us, too.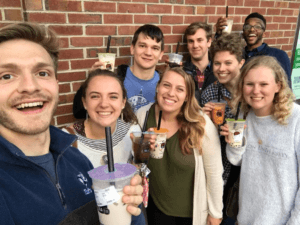 FYI: Bubble teas might explode if it is your first experience. Not shown: some tea still in Matthew's 'fro.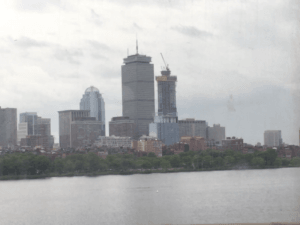 The view from the Red line train into Boston. "Red line best line!" –James Hoder