18 Jul

Living on Miami Time

Posted at 18:21h

in

Miami

?Count it all joy, my brothers, when you meet trials of various kinds, for you know that the testing of your faith produces steadfastness. And let steadfastness have its full effect, that you may be perfect and complete, lacking in nothing.?

James 1:2-4

During these past four weeks, our team has lived the Miami life with humid days, cultural diversity, sandy beaches, ethnic food, and public transportation. While we have encountered struggles and joy, our team is learning the importance of finding strength in Christ, not ourselves. We have had the opportunity to serve the Miami community, share the hope of Christ with others, and grow as individuals and as a team.

Pastor Muche connected our team with a single mother of four children who needs help around her home. Our team served Chelsea and her family by doing yard work, and she encouraged us by her graciousness and generosity. Though life is difficult, she constantly speaks of the Lord?s goodness and faithfulness. Even when we are weak and broken, we can trust in God and count our trials as a gift to find joy in Him rather than circumstances.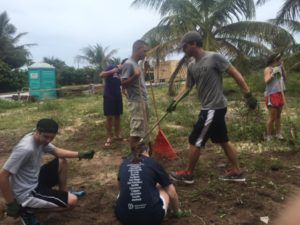 (The team cleaning Chelsea's yard)
Our team has had other opportunities to serve alongside The Brook as well as Providence Road Church (PRC). Working with PRC, we passed out water bottles, granola bars, and information about the church to commuters at the Metro and highway. On Saturday July 9, our team collaborated with leaders at The Brook to organize and host a volleyball tournament and cookout on the beach. We have purposefully used events like the cookout to connect with locals, invite them to church, and share the hope of Christ with them.
Our new friends that we have met around the city and on the train are not ?projects.? They are people ? people with faces, names, and stories. As C.S. Lewis says in The Weight of Glory, ?There are no ordinary people. You have never talked to a mere mortal.? We are inviting these friends into our lives, sharing meals with them, having Gospel-centered conversations, and praying for them. From the spunky little girl at the art camp we weekly volunteer at to the friendly Venezuelan man we met on the bus, these people need hope and truth that can be found only through Jesus Christ.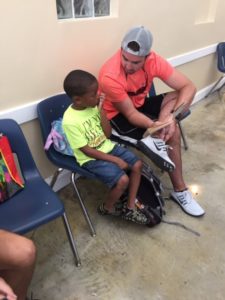 In addition to growing in boldness as witnesses for Christ, our team is growing in Christ-centered community. We are learning to graciously confront our brothers and sisters in Christ about sin (Matthew 18:15), spur each other on towards good deeds (Hebrews 10:24), and lead by serving (Mark 10: 43).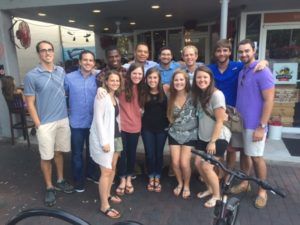 (Team photo with Ken and Daniel, and Uncle Daddy [Pastor Jeremy Chasteen])
An answer to prayer has been the blessing of The Brook and PRC as they serve us in tangible ways such as driving us around Miami – so that we have a break from running after buses and catching the metro :) – and taking us to dinner. Specifically, our friends Ken and Daniel from The Brook have given us rides and joined us in ministry on almost a daily basis.
Please pray for our ministry partners at The Brook and PRC, our unbelieving friends, and our team as we press into relationships formed during the past few weeks. We are excited to see how the Lord works and moves during our final two weeks in Miami.
?Not to us, O Lord, not to us, but to your name give glory for the sake of your steadfast love and your faithfulness!?
Psalm 115:1